The Sacred Heart: The foundation of our College and our Feast Day.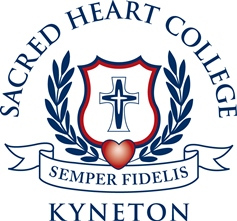 The Latin Motto: 'Semper Fidelis': The College motto is Semper Fidelis – Faithful Always – an invitation to our students to live their lives accordingly.

The Scroll: In ancient times, any important document was written on a scroll. Hence our motto is written on a scroll to emphasise its importance.

The Shield: The shield signifies protection. The training and ideals imparted to us during our College life will act as armour and be a source of strength in our future lives.

The Laurel: The palm or laurel branches symbolise victory. In ancient times the winner of a race was given a laurel wreath in recognition of their victory; at Jesus' triumphant entry to Jerusalem, the crowds waved palm branches as a sign of his coming victory over death. We are reminded that our lives can be seen as a struggle to win the prize of victory given to us when we uphold our Christian faith.

The Mercy Cross: This represents our Catholic identity and our Mercy heritage as a school formed in the charism of Catherine McAuley, Foundress of the Sisters of Mercy.